VersaLink® Cash Management Solution
VersaLink reports real-time data from VersaSafe using your smart phone or any web enabled device, giving you complete remote monitoring abilities anytime, anyplace.
VersaLink monitors the cassette capacity and can be set to notify your cash-in-transit service for a pick up when needed.
VersaLink can determine the overall health of individual components with the option to notify your repair service representative of a specific equipment fault or error
Features
View cash levels, both validated and dropped, in order to optimize visits
View, print, and save personnel, shift, and end-of-day audits
Update VersaSafe software and bill validator firmware remotely
Manage user accounts and VersaSafe settings
Dispatch technicians via text message or e-mail notifications
Determine the overall health of the VersaSafe and individual components
Putting these tools in the hands of the customer increases the customer's ability to monitor and control their VersaSafe and their cash management system as a whole.
See how VersaLink can help you manage your Triton ATMs and Smart Safes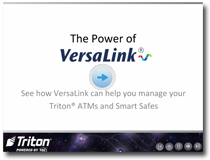 .
Real-time, Web-based
Monitoring
Reporting
Notifications
Management
Increases Transparency
Take control of your cash audit trail
Learn More
Reports
The reporting tool allows the user to evaluate their data quickly using a variety of pre-programmed filters based on transaction, date, user, etc so that you end up with a report that you need. Reports can be either printed or downloaded to import into your preferred accounting software to document the following events:
Bill Acceptor Close Report
Cassette Close
Day Close Report
Deposit Report
Drop Close
Pickup Close Report
Transaction
Trial Cassette Close
Communication
VersaSafe transactional data can be communicated with financial institutions in a number of ways – from obtaining data directly from VersaLink to generating a custom file for each financial institution.
Manuals